Dear friends of Charlie Braveheart,
Because of the success of last year`s Christmas bauble, Charlie Braveheart has designed a new edition of this unique
collector`s item for in the Christmas tree.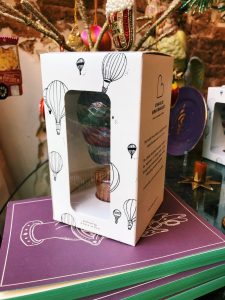 This Christmas bauble in the form of a colourful hot air balloon is 16cm high,
is authentic mouth -blown glass, has a gold coloured hanging cord
and is sent in a see trough package.
The price is €14,95 and the complete revenues will be brought to good
to the Charlie Braveheart Foundation.
With this item you don`t only have a beautiful gift for yourself or your loved ones,
but you also do good by supporting our Foundation
which strives to make the care for children pain-, stress- and fear- free.
The baubles can be ordered with the order button listed below in this item.
Don`t wait too long because we can only deliver while supplies last.
We wish you all the best and happy holidays.
Stay safe and healthy
Warm regards
Wulf, Michèle en Bibi
Charlie Braveheart Foundation
www.charliebraveheart.com